Our Menu wet food is prepared by Fleischsaftgarung. This is a special cooking method for fresh meat. Fleischsaftgarung has evolved from a combination of selected preparation techniques often used by top chefs to make fresh meat tastier and also healthier through the meat juice. Therefore, Fleischsaftgarung is actually a preparation method of human food. As in the kitchen, fresh meat is cooked only in its own nutrient-rich meat juices over a long period of time and at a low temperature.

Due to Fleischsaftgarung, Menu is:
particularly nutritious
a treat for your dog
digestible and easily processed

extremely high-yield due to the high nutrient density

good for the teeth (less carbohydrates reduce tartar formation)
good for the figure (fewer carbohydrates reduce the risk of obesity)
The preparation process of Fleischsaftgarung thus raises dog food to the level of human food, resulting in an increase in quality of life for your best friend.

Food change
The changeover from conventional wet food to PLATINUM Menu can be made immediately without any transitional phase. If your dog has a very sensitive stomach, you can give it the PLATINUM Menu over a period of 1-2 days, introducing it slowly until the animal has fully changed over to it.
Daily feeding amount
| Dog's weight in kg | Feeding amount* per 1 kg body weight of the dog in g |
| --- | --- |
| 1 - 10 | 30 |
| 11 - 25 | 25 |
| 25+ | 20 |
Example values wet food
| Dog's weight in kg | Feeding amount* in g | 375-g-pack |
| --- | --- | --- |
| 1 | 30 | ≈ 1/12 |
| 2 | 60 | ≈ 1/6 |
| 4 | 120 | ≈ 1/3 |
| 8 | 240 | ≈ 2/3 |
| 10 | 300 | ≈ 5/6 |
* Recommended guideline for the average active dog
The DoggyCoach food tube allows you to reward your dog quickly and easily. It is ideal for dog training, walks, while travelling or for when you are on the go. Thanks to its slim shape, the DoggyCoach fits in any handbag or jacket pocket.
The volume of the feeding tube is 89 ml. It is made of food-safe silicone and is 100% BPA-free. The lid can be screwed off completely for easy cleaning and filling. It is also dishwasher-safe.
The soft, flexible but also very stable shape makes it easy to handle for every dog owner.
The following wet food types are very suitable for use with the Doggy Coach:
Pure Fish
Turkey+Salmon
Chicken
Puppy Chicken

The following varieties also work, with some exceptions:
Iberico+Turkey
Fish+Chicken
Duck+Turkey
Our experience reports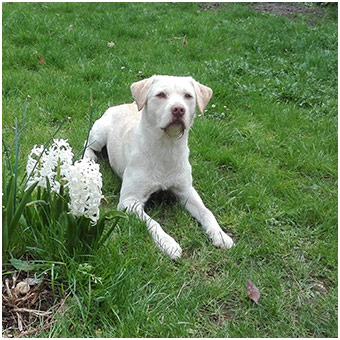 I have had only positive experiences with your food with my Labrador. He has a sensitive stomach but so far, he has tolerated your food well. 
You have helped him to become symptom-free. 
So, thank you.
Gernot M. with his dog Lion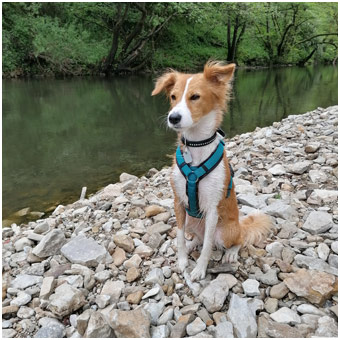 Fiona is a very active dog, but she's also a bit of a princess. Not every food is good enough for her. With PLATINUM, we've finally found a food that she really likes to eat. She likes both the wet and dry variety.

Michelle H. with her dog Fiona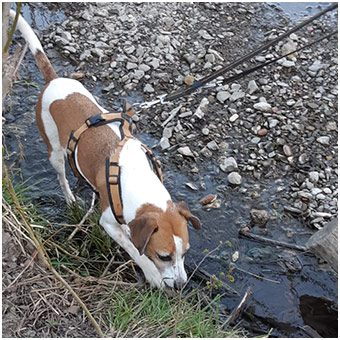 Before I discovered PLATINUM dog food, I had tried numerous kinds of dog food, but my dog didn't tolerate any of them. It is only since she started eating PLATINUM dog food that her digestive problems have disappeared. Whether it's wet or dry, and whatever the flavour,
Nala loves it all,



especially the snacks ;)

Stephanie R. with her dog Nala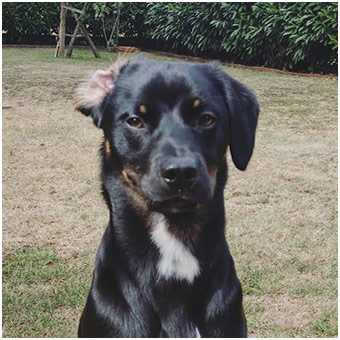 I've been using PLATINUM for over a year. My dog tolerates it well and he seems to enjoy it.
It's always packed carefully and sometimes there's even an extra treat :) 
We have also made use of the telephone advice service - they take their time and provide personal advice.
We are totally satisfied!
Katharina H. with her dog Hector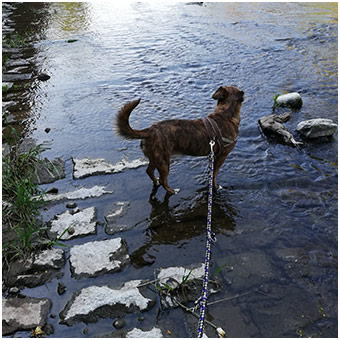 He used to eat different brands and types of food. However, after a while, the foods wouldn't agree with him, so we would try another, and this went on for some time.
I switched to PLATINUM over 2 years ago and since then he has never had a problem. He tolerates the food really well, both wet and dry. The main reason I chose PLATINUM was its high meat content. Also, the wet food smells really good and the dry food is slightly soft. It is also very wholesome.
We are very happy that we switched to PLATINUM and will remain loyal customers.
Yvonne A. with her dog Rocky
Every dog is originally descended from wolves, the digestive tract is designed for meat. Our kibbles are designed in such a way that they can be absorbed easily by any breed from the Chihuahua to the Great Dane and they satisfy the needs of all breeds equally.

A healthy senior dog can still be fed with PLATINUM as our food is very easy to digest and the ingredients it contains are of high quality. Please note, however, that the energy expenditure decreases with the age and the amount of food should be reduced if necessary. If an illness is discovered in your older dog, we recommend individual advice from our veterinary department.

If you want to offer your dog a little variety, you can easily switch between all types of PLATINUM food. It does not matter whether you give wet food in the morning and dry food in the evening or vice versa. A combination of wet and dry food in one meal is also possible, as both forms of feeding have the same digestibility with PLATINUM.

The choice between all of our varieties is entirely dependent on your dog's taste. You can switch between the adult flavors at any time as you wish, as long as there are no known intolerances. Each of our varieties is a complete feed to meet all of your dogs needs.

The switch from conventional wet food to PLATINUM Menu should be done immediately without a transition phase. If your dog has a very sensitive stomach, you can slowly add PLATINUM Menu over a period of 1-2 days until the changeover is completed.

No, you can rely on the fact that no animal experiments are done for the product development and production of our food and care products - neither by us, nor by any other third party.

The dry dog food is durable for 18 month after production, the wet dog food MENU is durable for 36 month and MENU Mini for 24 months after production.