Our snacks are prepared by Fleischsaftgarung. This is a special cooking method for fresh meat. Fleischsaftgarung has evolved from a combination of selected preparation techniques often used by top chefs to make fresh meat tastier and also healthier through the meat juice. Therefore, Fleischsaftgarung is actually a preparation method of human food. As in the kitchen, fresh meat is cooked only in its own nutrient-rich meat juices over a long period of time and at a low temperature.

Due to Fleischsaftgarung, our snacks are:
particularly nutritious
a treat for your dog
tender due to the meat juice
digestible and easily processed
does not swell (no food belly)
good for the teeth (less carbohydrates reduce tartar formation)
good for the figure (fewer carbohydrates reduce the risk of obesity)
The preparation process of Fleischsaftgarung thus raises dog food to the level of human food, resulting in an increase in quality of life for your best friend.

We recommend: 20 to 30 grams per 10 kilogram of the dog's body weight per day. That's about 30 to 40 CLICK-BITS or 2 to 3 FIT-STICKS. Please always provide your dog with fresh water!

Our experience reports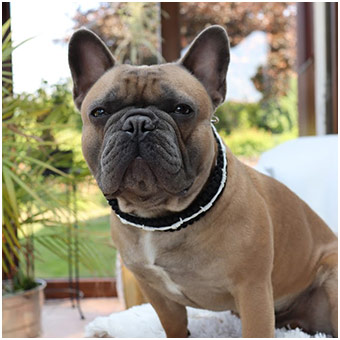 My 1.5-year-old French Bulldog Cuba has been fed PLATINUM Iberico+Greens dry dog food for about four months. We had previously tried dry foods from other manufacturers, but we always had problems with tolerance or taste. Someone recommended PLATINUM to us and now we are loyal customers! The food smells pleasant, doesn't swell and is easily digestible for Cuba. The fact that he runs like crazy to his food bowl every morning shows how tasty he thinks his food is. 
We have also been using PLATINUM's Click-Bits and Fit-Sticks as motivation for dog sports for a while now. We have only had good experiences with these products too!
We highly recommend PLATINUM!
Kim H. with her dog Cuba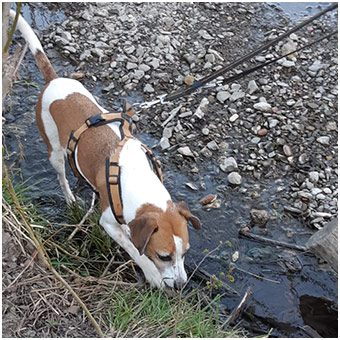 Before I discovered PLATINUM dog food, I had tried numerous kinds of dog food, but my dog didn't tolerate any of them. It is only since she started eating PLATINUM dog food that her digestive problems have disappeared. Whether it's wet or dry, and whatever the flavour,
Nala loves it all,



especially the snacks ;)

Stephanie R. with her dog Nala
No, you can rely on the fact that no animal experiments are done for the product development and production of our food and care products - neither by us, nor by any other third party.