We use Fleischsaftgarung to prepare our wet food Menu Turkey+Salmon. Fleischsaftgarung is a method of preparing fresh meat. It was developed in the kitchen and not in the feed industry. The method is based on techniques often used by culinary chefs to make meat tastier and healthier by using meat juices. Fleischsaftgarung is a carefully selected combination of these cooking techniques, adapted to the physical needs and interests of dogs.
Fleischsaftgarung is a process in which fresh meat is cooked in its own nutrient-rich meat juice, just like in the kitchen. Our wet food Menu Turkey+Salmon is created using the short cooking technique. This cooking technique only works in the Tetra Recart® carton because this enables the core temperature of the fresh meat to be reached more quickly via the narrow sides than in a can.
Due to Fleischsaftgarung, Menu is:
particularly nutritious
a treat for your dog
highly digestible
very yielding
good for the teeth (less carbohydrates reduce tartar formation)

Fleischsaftgarung makes dog food equivalent to high-quality human food. We therefore do not call food cooked with Fleischsaftgarung 'dog food'. After all, a best friend does not receive feed like the animals in the stable would.
We have our dog food tested regularly and independently by one of the most renowned test centres in Germany, the TÜV SÜD Elab.

Composition

| | |
| --- | --- |
| | Fresh turkey meat (63 %), fresh salmon (20 %), dehydrated potato, dehydrated vegetables (broccoli, carrots, leek), olive oil. |
Analytical constituents

Crude protein 14.2 %

Crude fibre 0.6 %

Crude fat 9.5 %

Calcium 0.95 %

Crude ash 2.5 %

Phosphorus 0.6 %

Moisture (natural content) 69.0 %
Additives per kg
Vitamins: 3a671/vitamin D3 480 IU, 3a700/vitamin E 60 mg. Trace elements: 3b405/copper 1 mg, 3b603/zinc 15 mg, 3b801/selenium 0.03 mg.
Food change
The changeover from conventional wet food to PLATINUM Menu can be made immediately without any transitional phase. If your dog has a very sensitive stomach, you can give it the PLATINUM Menu over a period of 1-2 days, introducing it slowly until the animal has fully changed over to it.
Daily feeding amount
| Dog's weight in kg | Feeding amount* per 1 kg body weight of the dog in g |
| --- | --- |
| 1 - 10 | 30 |
| 11 - 25 | 25 |
| 25+ | 20 |
Example values wet food
| Dog's weight in kg | Feeding amount* in g | 375-g-pack |
| --- | --- | --- |
| 1 | 30 | ≈ 1/12 |
| 2 | 60 | ≈ 1/6 |
| 4 | 120 | ≈ 1/3 |
| 8 | 240 | ≈ 2/3 |
| 10 | 300 | ≈ 5/6 |
* Recommended guideline for the average active dog
Our experience reports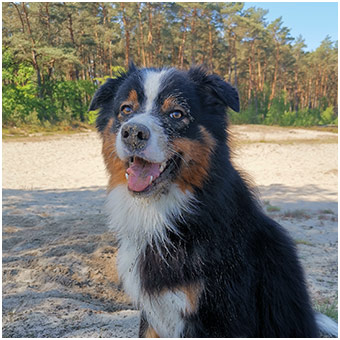 Luke has had stomach problems since he was a puppy. Even changing over to well-known food types has not helped. I heard about PLATINUM from a friend, but I was very sceptical initially. As with all recommendations, I did some thorough research first, but I was quickly convinced by the many positive customer reviews and the excellent composition of the food. Ordering and delivery were both very quick. I immediately switched Luke to PLATINUM and after 4 days he was feeling better than ever.
No more stomach problems
and he was much better in general. I definitely won't change again, and my next dog will also get PLATINUM.
Cindy K. with her dog Luke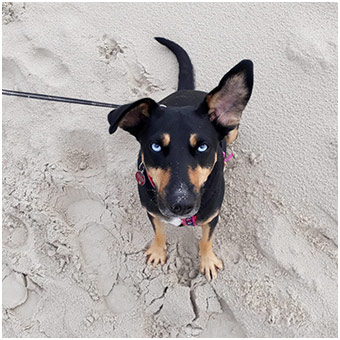 We have been using PLATINUM wet and dry dog food since we got our dog in 2015. No matter what flavour, she enjoys eating it and tolerates it very well. 
Many people notice that Sally has a beautiful shiny coat 
and I think this is mainly due to her diet.
We usually add a little "sauce" from the wet food to the dry food, which she really loves :)
Yvonne S. with her dog Sally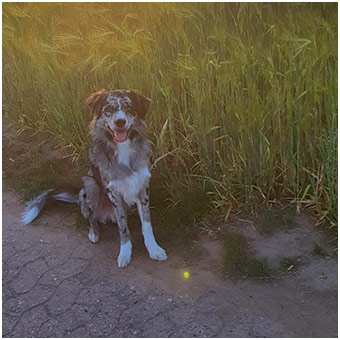 Yoshi has been eating PLATINUM dry dog food since he was a puppy. He has always tolerated it very well. As Yoshi is a very active dog, he has not always eaten. For about a year now, we've also fed him wet food.
He loves this combination so much,
that he often jumps right onto his bowl.
Yoshi eats all the flavours, but I think his absolute favourite is chicken.
Larissa W. with her dog Yoshi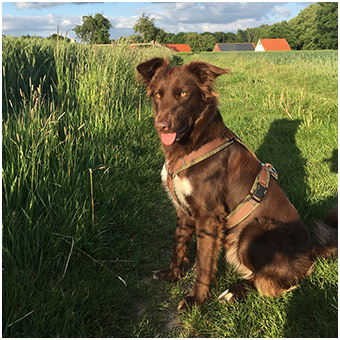 Unfortunately, Loki is quite picky with food. After weeks of trying everything, we were recommended PLATINUM.
We tried the wet food MENU Pure Fish.
I have to say that the TetraPaks are a bit strange at first and I had certain reservations about the portion size. However, the food comes out of the pack easily and can then be thrown in the bin to save space.
It has a very soft consistency, a bit like a mousse.
It is really well digested, and Loki appears to enjoy it :)
No more diarrhoea or flatulence!
We have only been a customer of PLATINUM for a short time and are so far very satisfied.

Jacqueline B. with her dog Loki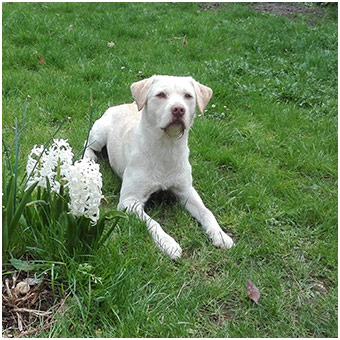 I have had only positive experiences with your food with my Labrador. He has a sensitive stomach but so far, he has tolerated your food well. 
You have helped him to become symptom-free. 
So, thank you.
Gernot M. with his dog Lion
Every dog is originally descended from wolves, the digestive tract is designed for meat. Our kibbles are designed in such a way that they can be absorbed easily by any breed from the Chihuahua to the Great Dane and they satisfy the needs of all breeds equally.

A healthy senior dog can still be fed with PLATINUM as our food is very easy to digest and the ingredients it contains are of high quality. Please note, however, that the energy expenditure decreases with the age and the amount of food should be reduced if necessary. If an illness is discovered in your older dog, we recommend individual advice from our veterinary department.

If you want to offer your dog a little variety, you can easily switch between all types of PLATINUM food. It does not matter whether you give wet food in the morning and dry food in the evening or vice versa. A combination of wet and dry food in one meal is also possible, as both forms of feeding have the same digestibility with PLATINUM.

The choice between all of our varieties is entirely dependent on your dog's taste. You can switch between the adult flavors at any time as you wish, as long as there are no known intolerances. Each of our varieties is a complete feed to meet all of your dogs needs.

The switch from conventional wet food to PLATINUM Menu should be done immediately without a transition phase. If your dog has a very sensitive stomach, you can slowly add PLATINUM Menu over a period of 1-2 days until the changeover is completed.

Compared to conventional dry food, which is mainly made from meat meal, the slow-cook meat juice method requires at least 70% fresh meat in order to prepare PLATINUM dry food. The difference between meat meal and fresh meat is very huge. In order to obtain meat meal from fresh meat, the fresh meat has to be heated strongly and exposed to high heat for a long time, often also to high pressure. This removes the nutrient-rich meat juice from the fresh meat in addition to the flavor carrier fat. Meat meal therefore is significantly lower in nutrients than fresh meat. We know from cooking that meat juice and fat make the roast a pleasure in the first place, which is why we do not prepare the Sunday roast with meat meal. Thanks to the slow-cook meat juice method, the PLATINUM dry food does not contain any locks or flavors, no coloring or odorous substances and no flavor enhancers.

The dry dog food is durable for 18 month after production, the wet dog food MENU is durable for 36 month and MENU Mini for 24 months after production.