Wet food prepared with Fleischsaftgarung
We use Fleischsaftgarung (FSG) to prepare our wet food. It was developed in the kitchen and not in the feed industry. The method is based on techniques often used by culinary chefs to make meat tastier and healthier by using meat juices. Fleischsaftgarung (FSG) is a carefully selected combination of these cooking techniques, adapted to the physical needs and interests of dogs.

Fleischsaftgarung (FSG) is a process in which fresh meat is cooked in its own nutrient-rich meat juice, just like in the kitchen. Our wet food is created using the short cooking technique. This cooking technique only works in the Tetra Recart® carton because this enables the core temperature of the fresh meat to be reached more quickly via the narrow sides than in a can.

The Fleischsaftgarung (FSG) process produces the important properties of our wet food that are so highly valued by dog lovers:
Fleischsaftgarung (FSG) retains the biologically important nutrients in our wet food. This is because of
the nutritious meat juices in fresh meat,
the reduced cooking time compared to conventional wet food in tins and
the fact that the meat juices are not diluted.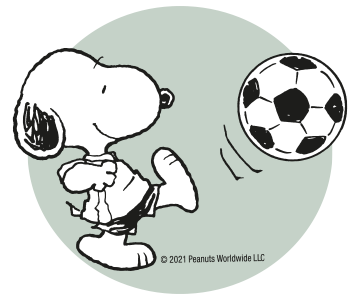 Fleischsaftgarung (FSG)
is a real treat for your dog:
Fresh meat (muscle meat, no offal) is cooked in its pure form in its juices. This means that no water is added.
The quick cooking technique, a gentle cooking method in the Tetra Recart® carton, means that the flavour is not lost during cooking, as is often the case with tinned meat.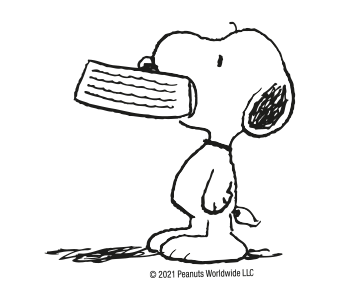 Fleischsaftgarung (FSG) makes our wet food highly digestible and extremely utilisable. This is due to the large amount of fresh meat, which is what makes Fleischsaftgarung (FSG) possible in the first place. Dogs' digestive systems are designed for meat. This means that dogs digest meat faster and also utilise it more effectively than humans. This is why wet food prepared with Fleischsaftgarung (FSG) is naturally easily digested and effectively utilised. The resulting faeces are consequently small, stable in shape and do not have an offensive odour. The faecal texture makes it easier for your dog to defecate (once or twice a day).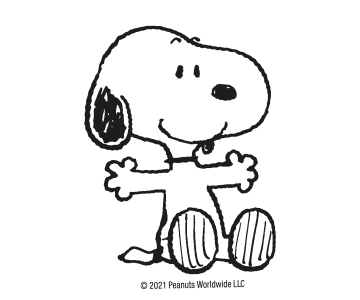 With Fleischsaftgarung (FSG), fresh meat is cooked only in its own meat juice. Since no water or broth is added, wet food cooked in meat juice remains entirely undiluted. This is also why a feeding portion of food that is cooked in meat juice is significantly less than that of most other wet foods. Less food is easier on the stomach and digestive system, which has a positive effect on long-term health.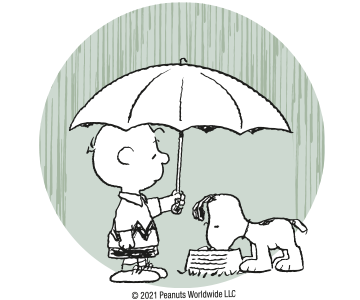 Wet food prepared with Fleischsaftgarung (FSG) contain only the necessary carbohydrates for your dog's health and these are gluten-free, wheat-free, soya-free and GMO-free as too many carbohydrates slow down the digestion and are a common cause of tartar. By reducing the amount of carbohydrates to the quantity necessary for health
the digestion eases,
the tartar formation reduces.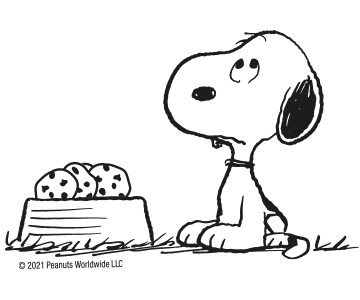 Fleischsaftgarung (FSG) prepares dog food in the same way as high-quality human food is made. It makes dog food equivalent to human food. At first glance, this may sound a bit excessive to some dog owners. But it's not, since the dog is (wo)man's best friend. The dog left the forest to spend its life with humans some 15,000 years ago. Today, the dog shares our habitat and feels like a real member of the family. The forest continues to be great fun, but not as an alternative way of life. The family has now replaced the pack. Formerly, its standing in the pack had a strong influence on its well-being. Today, it is its position within the family. Consequently, dogs should not feel worse off in any area of life than the other members of the family.
We therefore do not call food cooked with Fleischsaftgarung 'dog food'. After all, a real family member or best friend does not receive feed.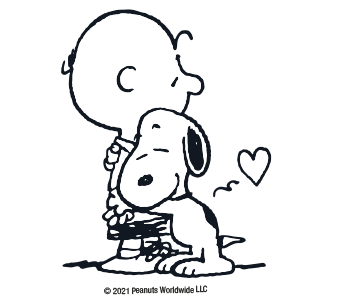 In a world full of advertising slogans, it's pretty hard to tell the good from the bad.
This is also why we have decided to commission TÜV SÜD ELAB (now ELAB Analytik GmbH) to regularly and independently test our dog food made from Fleischsaftgarung (FSG) and to publish all test parameters online for everyone to see.
The test parameters are formulated as questions:
Is the wet food prepared with Fleischsaftgarung (FSG) genuinely made with the advertised amount of fresh meat?
Yes, this was confirmed by the regular and independent test.
Are the declarations on the packaging correct?
Yes, this was confirmed by the regular and independent test.
Is the wet food prepared with Fleischsaftgarung (FSG) safe with regard to harmful substances such as germs, bacteria (Enterobacteriaceae, E. coli, presumptive Bacillus cereus, Staphylococcus, Clostridium perfringens, Salmonella and others), yeasts/moulds as well as heavy metals and mycotoxins?
Yes, this was confirmed by the regular and independent test.
Further information is available at: www.elab-analytik.de/platinum-english/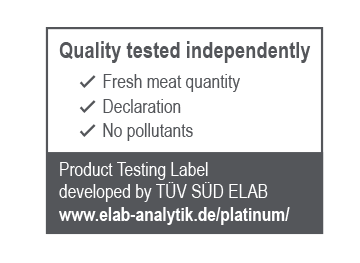 For tinned food to reach its core temperature, the tins are heated significantly longer than Tetra Recart® cartons due to their shape. The tinned meat is often overcooked at the edges by the time the meat in the centre of the tin reaches its core temperature. As the meat cooks away, so does the flavour of the tinned meat. For this reason, wet food made by Fleischsaftgarung (FSG) is only available in the Tetra Recart® carton.
Compared to tins, Tetra Recart® cartons are also
More environmentally friendly
More space-saving and
Easier to use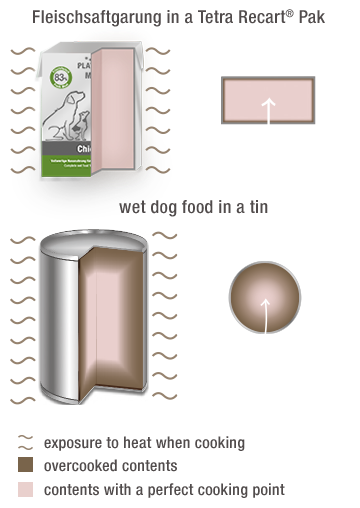 Our products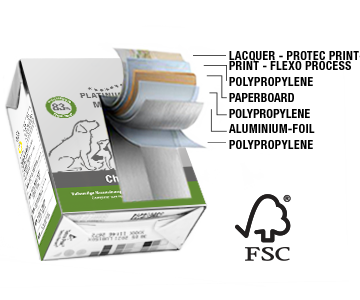 Premium packaging
Not only in the preparation without water, but also in packaging PLATINUM is following a different and innovative path.
The Tetra Recart® packaging convinces on a variety of grounds: it combines an easy manageable and innovative concept of packaging with a good environmental profile and an econonomical use of ressources.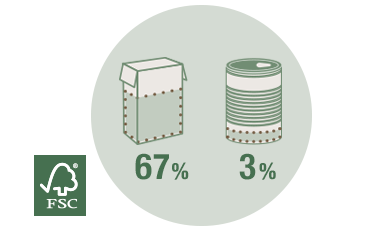 Eco-friendly packaging
The Tetra Recart carton of PLATINUM Menu is composed of 67 % cardbox and therefore is based on two-thirds of renewable ressources. The only thing that comes from a renewable resource on a conventional tin is the paper label (3 %).
FSC-certified
In addition, the material that is used for the Tetra Recart® carton is from FSC-certified forests and/or recycled. With this, you are choosing a product from controlled sources, that fits ambitious ecological and social standards during the manufacturing. The international environmental label of FSC guarantees a gapless tracing of the material.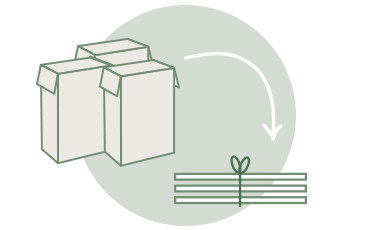 Sustainability
The consumer behaviour is changing and with this, the demand of sustainable packaging is rising. PLATINUM is convinced, that it is important to contribute in eco-friendly packaging material.
Out of love for nature
The Tetra-Recart packaging is completely recycable. For disposal, simply fold it and dump it environment-friendly through the dual system. So the packaging can be easily used for the production of new and useful products.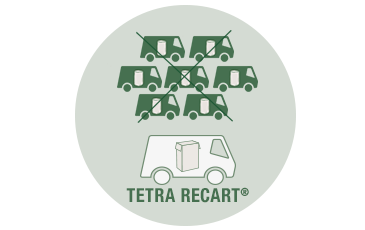 Less stowage, more space
You got more storage space due to the rectangular shape of the Tetra Recart packaging. In comparison to canned wet dog food, you save 40 % of space. Further, our wet dog food is not only space-saving and lightweighted, but also shatterproof. And the Tetra Recart® packaging protects the nutrients in PLATINUM Menu while the durability of 36 months.
Lower environmental impact
The Tetra Recart® packaging is particularly lightweight - in contrast to other types of packaging (e.g. cans) it only weighs about 60 %. And due to the rectangular shape more packs fit into a truck (compared to conventional tins). With this, it also has an effect on the environmental footprint.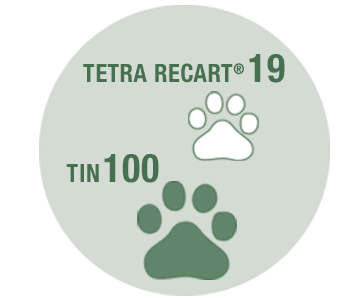 Carbon footprint in comparison
Compared to tins, the Tetra Recart® packaging has 81 % lower carbon dioxid emissions during the products lifecycle.
In comparision with tins or glasses, the Tetra Recart® packaging saves additional 60 % of energy during production, distribution and disposal.
Previous
Next