We use Fleischsaftgarung to prepare our Fit-Sticks Chicken+Lamb. Fleischsaftgarung is a method of preparing fresh meat. It was developed in the kitchen and not in the feed industry. The method is based on techniques often used by culinary chefs to make meat tastier and healthier by using meat juices. Fleischsaftgarung is a carefully selected combination of these cooking techniques, adapted to the physical needs and interests of dogs.
Fleischsaftgarung is a process in which fresh meat is cooked in its own nutrient-rich meat juice, just like in the kitchen. Our snacks are produced when the fresh meat is cooked at a low temperature over a long period of time and the meat juice is constantly concentrated using a cooking technique known as reduction.
Due to Fleischsaftgarung, our snacks are:
particularly nutritious
a real treat for your dog
soft but chewy because of the meat juices
highly digestible
does not swell in dog's stomach (no bloating)
contain less carbohydrates

We have our dog food tested regularly and independently by one of the most renowned test centres in Germany, the ELAB Analytik GmbH (formerly TÜV SÜD ELAB).
Composition

Fresh chicken and lamb meat 76 %, fresh chicken liver, broken rice, green-lipped mussel extract, carrots*, tomatoes*, african marigold*, dandelion*, broccoli*, green tea*, chamomile*, oregano*, milk thistle seed*, cranberry seed*, seaweed*, potassium chloride. (*dried)

Analytical constituents

Crude protein 24.0 %

Crude fibre 2.5 %

Crude fat 9.9 %

Calcium 1.5 %

Crude ash 6.5 %

Phosphorus 1.0 %

Moisture (natural content) 18.0 %
Additives per kg

No vitamins or minerals added.

We recommend: 20 to 30 grams per 10 kilogram of the dog's body weight per day. That's about 2 to 3 Fit-Sticks.

Our experience reports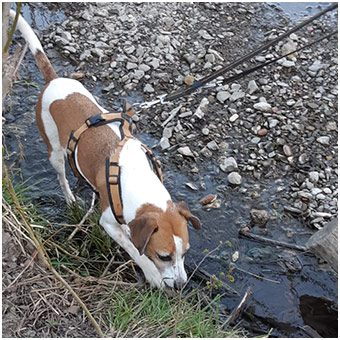 Before I discovered PLATINUM dog food, I had tried numerous kinds of dog food, but my dog didn't tolerate any of them. It is only since she started eating PLATINUM dog food that her digestive problems have disappeared. Whether it's wet or dry, and whatever the flavour,
Nala loves it all,
especially the snacks ;)
Stephanie R. with her dog Nala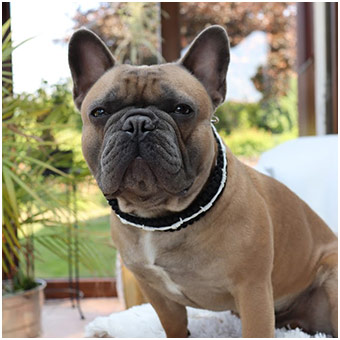 My 1.5-year-old French Bulldog Cuba has been fed PLATINUM Iberico+Greens dry dog food for about four months. We had previously tried dry foods from other manufacturers, but we always had problems with tolerance or taste. Someone recommended PLATINUM to us and now we are loyal customers! The food smells pleasant, doesn't swell and is easily digestible for Cuba. The fact that he runs like crazy to his food bowl every morning shows how tasty he thinks his food is.
We have also been using PLATINUM's Click-Bits and Fit-Sticks as motivation for dog sports for a while now. We have only had good experiences with these products too!
We highly recommend PLATINUM!
Kim H. with her dog Cuba