We use Fleischsaftgarung to prepare our dry food Puppy Chicken. Fleischsaftgarung is a method of preparing fresh meat. It was developed in the kitchen and not in the feed industry. The method is based on techniques often used by culinary chefs to make meat tastier and healthier by using meat juices. Fleischsaftgarung is a carefully selected combination of these cooking techniques, adapted to the physical needs and interests of dogs.
Fleischsaftgarung is a process in which fresh meat is cooked in its own nutrient-rich meat juice, just like in the kitchen. Our dry food Puppy Chicken is produced when the fresh meat is cooked at a low temperature over a long period of time and the meat juice is constantly concentrated using a cooking technique known as reduction.
Due to Fleischsaftgarung, our dry food is:
particularly nutritious
a treat for your dog
soft but chewy because of the meat juices
highly digestible
does not swell in dog's stomach (no bloating)
contain less carbohydrates

Fleischsaftgarung makes dog food equivalent to high-quality human food. We therefore do not call food cooked with Fleischsaftgarung 'dog food'. After all, a best friend does not receive feed.
We have our dog food tested regularly and independently by one of the most renowned test centres in Germany, the ELAB Analytik GmbH (formerly TÜV SÜD ELAB).
Composition

Fresh chicken meat (73 %), broken rice, dehydrated chicken protein, dried fish, hydrolysed poultry protein, dried apple pulp, salmon oil, dried brewers' yeast, cold-pressed flaxseed oil, cold-pressed olive oil, potassium chloride.
Analytical constituents

Crude protein 27.0 %

Crude fibre 2.0 %

Crude oils and fats 16.0 %

Calcium 1.5 %

Crude ash 7.9 %

Phosphorus 1.0 %

Moisture (natural content) 19.0 %
Additives per kg
Vitamins: 3a672a/vitamin A 10,000 IU, 3a671/vitamin D3 1,600 IU, 3a700/vitamin E 150 mg. Trace elements: 3b104/iron 75 mg, 3b201/iodine 3 mg, 3b405/copper 19 mg, 3b503/manganese 40 mg, 3b603/zinc 50 mg, 3b607/zinc 100 mg, 3b801/selenium 0.4 mg.
Calories per 100 g
364,4 kcal

Food change
We recommend an immediate change of dog food without a transitional phase. Due to the differences in digestibility, mixing PLATINUM Dry Food with another dry food is not advisable.
Daily feeding amounts
Dog's age
Estimated weight of
the adult dog
2 months
4 months
6 months
8 months
10 months
12 months
recommended daily feeding amount
2,5 kg
50g
55g
60g
55g
55g
50g
5 kg
85g
105g
110g
100g
95g
85g
7,5 kg
115g
145g
150g
140g
135g
115g
10 kg
130g
160g
175g
165g
160g
150g
12,5 kg
145g
180g
195g
185g
180g
165g
15 kg
160g
215g
220g
215g
215g
190g
20 kg
205g
260g
275g
270g
270g
250g
30 kg
270g
360g
370g
370g
365g
325g
40 kg
320g
420g
440g
500g
455g
425g
60 kg
370g
580g
605g
650g
630g
600g
80 kg
410g
710g
750g
820g
810g
750g
Serve dry or slightly moistened with water.
Do not let the food soak for a long time, serve immediately.
Always provide your dog with fresh water.
Initially please feed using the lower recommended amount, only serve more if required.
Our experience reports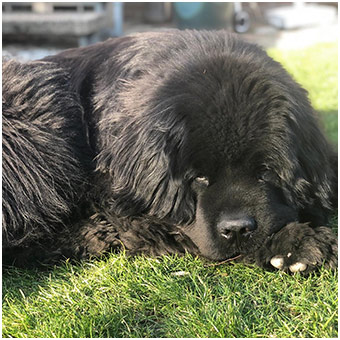 Dear team, we have two Newfoundland who are now five years old. One of them had been getting smaller and smaller open spots under his coat since we bought him, the doctor said it was an allergy to something. We tried the more expensive anti-allergenic food without cereals, gluten etc. However, the ingredients made us suspicious, especially because they didn't stop the allergy. The other dog has had significant problems with his joints from an early age.
After I read an interesting book about the nutrition of wolves, I completely changed my mind. Both now get PLATINUM dry dog food Iberico + Greens in the morning and raw beef, turkey and chicken in the evening.
This combination is excellent! No more allergies for half a year. Joints are no longer an issue either. We also add herbal joint supplements to the food.
And when we travel and can't get hold of fresh meat, we combine the great Iberico + Greens and the practical wet food. Thank you, PLATINUM! We will remain loyal!
Pamela B. with Egar Bär von der Gonheide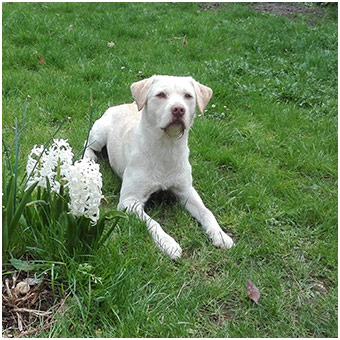 I have had only positive experiences with your food with my Labrador. He has a sensitive stomach but so far, he has tolerated your food well. 
You have helped him to become symptom-free. 
So, thank you.
Gernot M. with his dog Lion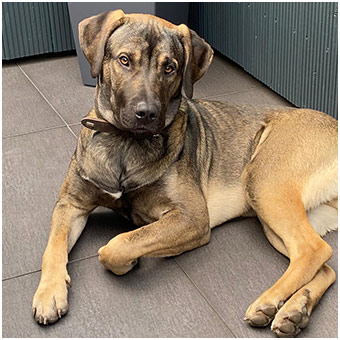 We have used PLATINUM dry dog food since 2007. All our dogs have enjoyed it without having to add anything. We now have our fourth dog eating this food. He comes from Greece and when we first got him, he had very bad fur and brittle claws. After about four weeks, people were telling us that he had a very beautiful and shiny coat. The dry dog food smells great, and I like its soft consistency compared to other dry foods. In between meals, he gets wet food as a reward when in training. We are very happy with this dog food.

Jennifer D. with her dog Cooper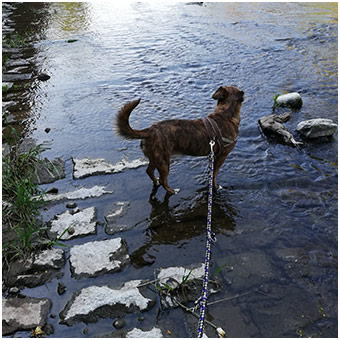 He used to eat different brands and types of food. However, after a while, the foods wouldn't agree with him, so we would try another, and this went on for some time.
I switched to PLATINUM over 2 years ago and since then he has never had a problem. He tolerates the food really well, both wet and dry. The main reason I chose PLATINUM was its high meat content. Also, the wet food smells really good and the dry food is slightly soft. It is also very wholesome.
We are very happy that we switched to PLATINUM and will remain loyal customers.
Yvonne A. with her dog Rocky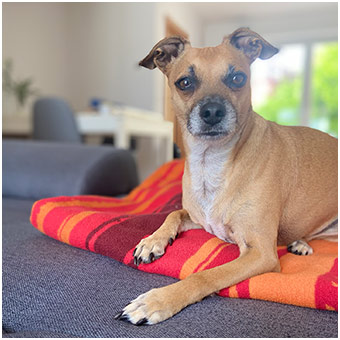 Before, Abby would always start refusing dry food after a couple of weeks. Her faeces were always very soft, almost diarrhoea-like. Since she started eating PLATINUM, this has all changed. I was sceptical at first whether such a small portion would fill her up, but it seems to be very filling. The best thing is that she looks forward to her food and always enjoys eating it.
Her coat is shiny.
We are particularly pleased that since she started eating PLATINUM, her flatulence has stopped.
Svenja F. with her dog Abby
When to switch from puppy food to adult food depends among other things on the expected size and breed of your dog.

Small breeds (such as Dachshunds and Pugs) can get the puppy food until the age of 12 months. Medium-sized dogs (such as Australian Shepherd and Border Collie) are usually switched after they have completed the change of their theets (approx. after 6 months) and large breeds (such as Bernese Mountain Dogs, Rhodesian Ridgebacks) can already be fed at the age of 4 months with our adult food.

If you would like an individual advice for your dog, please contact our customer service at info@platinum.com or on our free service number: 0800 3 64 36 63

Important: If you switch to an adult variety earlier, we recommend to use the feeding recommendation for the puppy food up to the age of 12 months in order to ensure a sufficient supply of nutrients with optimal -not maximum growth rates.

If you want to offer your dog a little variety, you can easily switch between all types of PLATINUM food. It does not matter whether you give wet food in the morning and dry food in the evening or vice versa. A combination of wet and dry food in one meal is also possible, as both forms of feeding have the same digestibility with PLATINUM.

Every dog is originally descended from wolves, the digestive tract is designed for meat. Our kibbles are designed in such a way that they can be absorbed easily by any breed from the Chihuahua to the Great Dane and they satisfy the needs of all breeds equally.

Compared to conventional dry food, which is mainly made from meat meal, the slow-cook meat juice method requires at least 70% fresh meat in order to prepare PLATINUM dry food. The difference between meat meal and fresh meat is very huge. In order to obtain meat meal from fresh meat, the fresh meat has to be heated strongly and exposed to high heat for a long time, often also to high pressure. This removes the nutrient-rich meat juice from the fresh meat in addition to the flavor carrier fat. Meat meal therefore is significantly lower in nutrients than fresh meat. We know from cooking that meat juice and fat make the roast a pleasure in the first place, which is why we do not prepare the Sunday roast with meat meal. Thanks to the slow-cook meat juice method, the PLATINUM dry food does not contain any locks or flavors, no coloring or odorous substances and no flavor enhancers.

We recommend an immediate change in dog food without a transition phase. Due to the different digestibility, it is not recomendable to mix PLATINUM dry food with any other dry food.

No, you can rely on the fact that no animal experiments are done for the product development and production of our food and care products - neither by us, nor by any other third party.

To avoid causing problems in the puppy learning to produce the important substances contained in the extract on its own, they should not be supplied in the food in the first 3 months.

The dry dog food is durable for 18 month after production, the wet dog food MENU is durable for 36 month and MENU Mini for 24 months after production.

---
Has your question not been answered yet? Then write to us!
Our team will be happy to help you.
To contact form